This has been a big week for Step Up Now!  The message of transformational leadership we are sharing is beginning to resonate with a group of influential leaders.  We were featured on both radio and television this week, sharing the message of the book to help leaders and people who influence everywhere.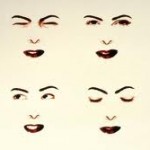 What's so unique about yet another book on leadership?  Research has shown that only 7% of leadership influence is based on the words we speak; the other 93% is based on our moods and emotions, and how we hold those emotions and moods in our bodies.  The good news is that these can be understood, developed and practiced.
The bad news is that traditional leadership training only focuses on the 7% or the words we say and NOT the 93% that influences where leadership really lives.  The result is that people often become frustrated and are much less effective than they want or need to be.
"Step Up Now" offers an integrated process that is workplace friendly.  It is truly a new model that weaves western business concerns with ancient timeless wisdom to help people who lead discover a joyful and authentic path to influencing others.
Why should you care?  Because leadership problems have an economic impact.  In fact, employee stress costs business $300B per year in absenteeism, loss of talented employees, health costs and programs to reduce stress.
Providing emotionally skilled leadership can impact the U.S. economy to the tune of $250 billion annually!
So if you are a CEO, run a small business, or a non-profit, step up your learning to discover essential leadership skills that are rarely understood, yet easily implemented and proven to work.
You will access cutting-edge research on emotional intelligence, neuro-linguistics, ancient wisdom and personal practice.
If you are busy, successful person who won't read a treatise on leadership, you will get succinct, "do-it-now" exercises.
My goal is to help you turn on a fountain of wisdom, joy and emotional intelligence that inspires you to become wildly productive and find meaning in your work.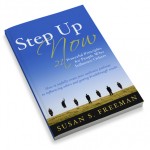 Visit my website at www.StepUpLeader.com to order your book, sign up for the free monthly newsletter with tools and tips you can use right away.
Here's to your Step Up Success!