This week we feature leadership wisdom from an extraordinary young Rwandan woman, Nadine Niyitegeka. She is a staff member and graduate of The Akilah Institute for Women in Rwanda. Nadine has been touring the U.S. for 9 months as an Akilah Ambassador, representing her alma mater and her country.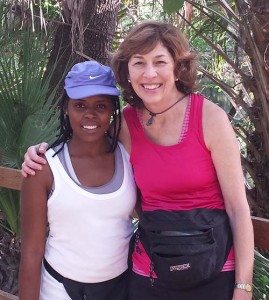 Nadine is one of those remarkable human beings whose beauty, intelligence, and determination draw you in. While hosting her at my home last weekend, we spoke about her perspective on leadership. She survived the genocide in Rwanda in 1994, yet lost many family members. What follows are her words of wisdom about the leadership qualities she most values and her vision for her future.
1) Believe in yourself as a leader. You must have confidence. Have the ability to try things you have never done before, even though they are hard. I always try to see something good and have a positive mindset. You can't lead people if they don't believe in themselves.

The first time I had confidence was when I was given time to speak up. In a leadership class at Akilah, my teacher asked me to stand up and say something. We were discussing leadership and what I think makes a good leader. I said "you need to listen to your followers; choose what you need from that and then add on more of your own truth."

At that moment, I realized that my teacher thinks I have something to contribute. I felt so important. I felt I can give good ideas and they can contribute to society. I kept contributing. I stopped thinking I couldn't say something because I had nothing to contribute.

Rwanda is now doing well. When I was in school we didn't have chance to talk. We just memorized and learned from books. At Akilah I realized there were other women like me who had ideas. I learned women can have great thoughts and ideas, including me. If you have someone to listen to you and someone to help you with advice, you feel comfortable.

It's important to feel your own presence. This experience helped me feel my presence in the world. I learned that I can be someone who can change the lives of many. I learned to use my thoughts, ideas and voice. I now believe in myself. I can do whatever I set out to do. I can be helpful to others.

2) Leaders need to know the needs of the people you are leading. What do they most need? How can you help them? You need to know who they are. What is basic, and what is urgent? That will help you. Any kind of leader needs to have this. You may have knowledge, but you may end up solving problems that are not your first priority to resolve.

3) Leaders need a positive attitude and mindset. You are the person who is going to be cultivating the faith and hope in your followers. Because you believe in yourself, you see the light and not the dark. You see them as important people all of the time. Respect the people you are leading, be flexible and punctual. Follow through.

4) Leaders must have vision. Having a vision has been important to me. Although I grew up with an extremely hard life, I always had a vision to become someone helpful. I kept pushing and pushing hard. My vision was to see myself as a provider and one who inspires others. I am on that path now, and plan to go even further.

When I was 13 years old, during my first year of high school, my mom didn't have a job. I had to walk 1 ½ hours to school without breakfast and lunch. I met a young man who was a friend of my family. He asked me "where are you from?", "You look so tired and hungry." He gave me the equivalent of $1. I bought a snack and dinner for my whole family. Other days I wasn't as fortunate.

I had a vision I would leave this hard life and be a person who can help other people reach their dreams and goals. My mom worried about me not making it. "Someway, somehow," I kept telling myself. This went on for six years.

5) Leaders need the courage to overcome their fears. I learned to keep pushing hard; to look for advice and help. In high school, I worked in a grocery store owned by a man who changed my life. He was the first person who told me I had potential. He had heard of Akilah and urged me to apply. I told him I couldn't because I didn't speak English. He told me he thought I could make it. He pushed me and I was accepted! I had to embrace the opportunity and work really hard for it. When I was selected as Akilah Ambassador attending a global conference, Women Deliver, in Malaysia with Barbara Bush, Chelsea Clinton, among others, I could hardly believe it. I sat next to a woman who was a minister in Rwanda. His believing in me made all the difference.

In closing, I urge leaders to enjoy the opportunities you have, and also do something to help others who are behind you. Share the knowledge you have. By helping others and giving back, I plan to help lift up our country and the world.

I would love for every woman to be empowered in her own way. I want to help Rwandan women learn to express their ideas authentically, maintaining her personality, dignity and identity.

A special thank you to Elizabeth Dearborn Davis, Akilah Founder and CEO, all the AKilah teachers, and those who put their lives in danger to help others. If there were more people like Elizabeth in the world, it would be a safer place to live.

I have learned that people should appreciate their lives and what you have no matter what.
To learn more about Nadine and Akilah, visit
http://www.washingtonpost.com/blogs/she-the-people/wp/2014/09/12/ive-seen-the-future-of-rwanda-and-her-name-is-nadine/