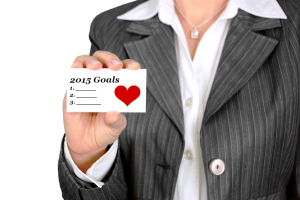 Welcome to February! Technically it's the last month of winter in the Northern hemisphere. For most, the darkness of the season hasn't yet given way to the lightness of spring. It's a time when the newness of January's New Year's resolutions may have worn thin. It's also the month for Valentine's Day; a time when we pay particular care to expressing our love to those who are intimate in our lives.
That love can also apply to goal setting as well.
I believe that for goal setting to be effective, it must be done with love. I find that although many people set goals at the beginning of the year, by this time they are finding themselves less effective at working on them than they hoped for. People don't fail at goal setting; they fail at setting themselves up for effective implementation. I believe the secret ingredient to the sauce is setting goals with love; for yourself, your mission, values, passion and work in the world.
Here are my top 7 tips for effective goal setting.
They begin by being centered, mindful and open-hearted. Love is the foundation from which everything can build and sustain.
Always begin with an overall theme; it can be one word or several. Goals should be preceded by an intention. The intention should be created out of love and expressed through purpose, vision, and work in the world.

Begin with the end in mind; ask "what do I want to have" and "who do I want to be" when the goal is complete. Take it beyond the realm of the mental intelligence and into the domain of feeling. What will it feel like when you are there?

For the sake of "what" have I set this goal? How will it improve my life and that of others? Be curious; does the goal make you feel expansive or contracted?

What do I need to believe in order to make this goal a reality? Do my current beliefs and behaviors line up, or do I behave differently than what I think I believe?

Lastly, set timelines (not deadlines) that are realistic, yet a stretch. At least X but not more than Y. This creates strong energy without setting up for "the sky's the limit" thinking

Review goals on a consistent weekly basis ask "are my actions lined up with goals? If not, what may be getting in the way?"

Celebrate! Enjoy every piece of movement towards the goal; appreciating the journey can become the most powerful goal of all.
I believe that using these tips as guidelines will enhance not only your effectiveness as a leader, but offer a chance for joy, satisfaction and meaning at every stage in the process. When you set goals against a backdrop of love, and remove any obstacles towards acting in accordance with them, you will experience a new way of working, leading, and living.