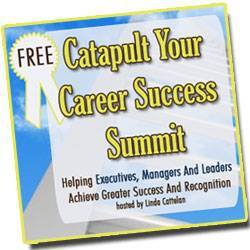 This week I invite you to join me in the complimentary Catapult Your Career Success Summit, hosted by Linda Cattelan. The Summit runs from Jan. 20-31. Recordings are available for 72 hours after each speaker's session or can be purchased for use at any time.
I am delighted to be included in the event, on January 30 at 2 p.m EST/ 11 a.m. PST. Throughout the 11 days, you can tap into more than 20 renowned guest speakers and career experts, each of whom brings a specific focus that can help you make your professional life remarkable in 2015. If you learn one or two new things and put them into practice, you can experience the difference.
You will have a peek into the unique system I've developed to help leaders breakthrough barriers to achieve extraordinary professional and personal results.
We begin where traditional leadership training leaves off. You will:
Find out where leadership really lives (it's not what you think)!

Reveal the secret of how to inspire others confidently

Learn the most powerful (and often left out) step for achieving a goal

Experience how to diminish and extinguish chronic stress and overwhelm

Know how to "Sustain The Gain!" to positively impact your work and life
One of my passions is sharing my approach to helping leaders develop the capacity to transform their leadership and influence. Strongly influenced by the impact of Eastern wisdom traditions, I combine the discipline of western strategic thinking to help my clients excavate the Natural Leader™ within. When they do, they experience passion, clarity and breakthrough results.
Highlights include a few of the principles from my book, "Step Up Now: 21 Powerful Principles for People Who Influence Others." There is also a free gift for listeners.
I invite you to sign up right now for the Summit and I look forward to connecting with you.