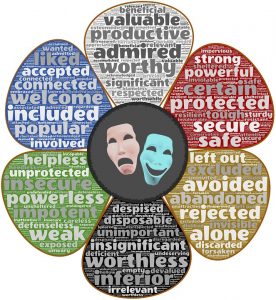 This is the second part of a two-part series on how we can reduce the damaging impact of ego as leaders.
Leading Blog recently reviewed a new book, Ego Free Leadership.  Here are some key insights:
"Intellectually it's easy to decide that learning, growing, or creating authentic relationships is more important than not appearing incompetent, failing, or being hurt. Unfortunately, this is not how we feel at a visceral level, or we wouldn't be continuously repeating these dysfunctional behaviors. Transformation comes when we consciously connect with goals not tied to our self-worth and use this emotional clarity to inspire action in the present moment.
The theoretical importance of having authentic, transparent conversations isn't in question: it's rather the practical difficulty of doing so when there isn't emotional safety in the relationship.
For our ego, the sensation of being right is like electricity to a lightbulb. It fuels us with energy and vigor. We sit straighter, our voice sharpens, and our language hardens. We face an issue or a conflict, and we see the answer clearly. With this certainty comes a feeling of power and righteousness, as captivating as a drug rush. This is the way it is. Being right sweeps us so automatically into an aggressive mental stance that any collateral damage seems just a necessary evil.
Our egosystem and brain can convince us of anything, regardless of its veracity. We can make—I myself have done it countless times—any number of important decisions with profound conviction, only to realize later it wasn't really what we wanted or was based on incorrect perceptions. ("…clearly distinguishing between the facts I had collected and my conclusions about them.")
In each case, people experienced their frustration as true, when in fact they were unconsciously focusing on the negative in others. Worse when we do this, our mindset and behaviors actually influence others to be less than their best selves, either because they don't feel safe or because we simply don't allow them to participate. We limit their potential.
As the authors admit no organization (or individual) can be completely ego-free, but we can manage it better. In every situation we have a choice. We can either give in to our ego or break free of the limits it imposes on us. They recommend:
Notice the moments in your life when you experience a pinch. It might be an event or something someone says or does.
Instead of reacting, search for what is triggered in you. What is that visceral discomfort you're trying to numb or you're blaming others for? How is your sense of self-worth threatened?
Look outward and consider what vulnerabilities other might be feeling behind the veneer of strength or indifference. Empathize with how they feel in danger.
Take the risk of disclosing how you feel vulnerable. Share your ego threat, not your mind chatter. Model a context of safety."
Certainly the book's teaching could be very helpful to get started.  For more information on how to develop leadership habits with ego in check, visit susansfreeman.com.