This week's blogpost focuses on a skill that is the most critical driver of overall performance.  Can you guess?
According to Marcel Schwantes in an Inc. magazine article of 1/31/17, this skill would not only help you be aware of and even experience the thoughts and feelings of others—it would even help you have successful conversations.
The skill is empathy.
Research from a firm that has studied leadership for 46 years, Global training giant Development Dimensions International (DDI) shows that " optimal leadership can be boiled down to having dozens of "fruitful conversations" with others, inside and outside your organization."
"Expanding on this belief, they assessed over 15,000 leaders from more than 300 organizations across 20 industries and 18 countries to determine which conversational skills have the highest impact on overall performance.
The findings, published in their High Resolution Leadership report, are revealing. While skills such as "encouraging involvement of others" and "recognizing accomplishments" are important, empathy--yes, empathy–rose to the top as the most critical driver of overall performance.
Specifically, the ability to listen and respond with empathy. (see graph below)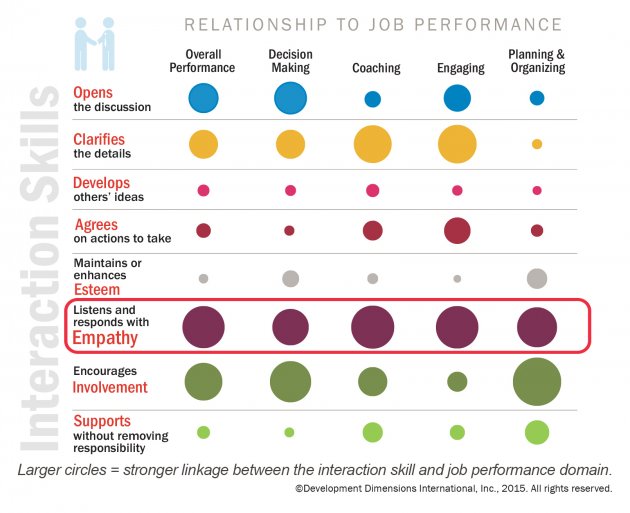 Ray Krznaric, author of Empathy: Why It Matters, and How to Get It, sums it up nicely:
Empathy in the modern workplace is not just about being able to see things from another perspective. It's the cornerstone of teamwork, good innovative design, and smart leadership. It's about helping others feel heard and understood.
This whole premise does have an air of genius about it, considering that when you take on the perspective of those you are talking with, it engages people on the spot. This can be a difference maker. That's the good news."
How well do leaders measure up?
The DDI report reveals a dire need for leaders with the skill of empathy. Only four out of 10 frontline leaders assessed in their massive study were proficient or strong on empathy.
Why?  Managers aren't spending enough time interacting.  Too much time spent behind technology screens.  It appears that the art of conversation needs a booster!
Empathy is critical to conversations, which are critical to getting things done.  Investing in developing leaders who are authentic, relational and empathic is an investment in your organizations health and performance.
I invite you to post your comments here.    For more information on how our leadership coaching services can help you and your team develop empathy, contact me.