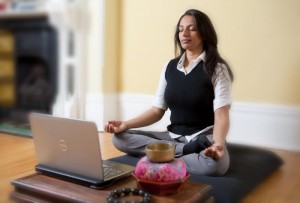 You already know that yoga is useful for health and well-being.  Yet what's it got to do with being an effective leader?  A lot!
I have been a practitioner of yoga for over 10 years.   Because of its immense benefits, I have invited my leadership clients to consider beginning a practice of yoga.  For those who were already practicing, I have invited them to deepen their practice.    We are part of a national trend towards yoga as a "fitness that matters." It is that and a leadership practice as well.
According to the latest Yoga in America study from Yoga Journal, the number of Americans who practice yoga has shot up by nearly 30 percent in the past four years. Their 2008 survey accounted for 15.8 million yoga practitioners, but the latest figure shows that 20.4 million Americans are now practicing — about 8.7 percent of U.S. adults.
Yoga is consistently touted and studied for its health and wellness benefits.  Yet it is rarely connected to helping leaders become more effective and influential.
What is the connection between yoga and leadership?
(Continue reading my article via the Conscious Shift Community page)